My work machine is a Dell laptop running Windows 7. My home machine is a MacBook Air running OS X Yosemite.
98% (made up number) of the posts on this site were written using my Windows machine.
But now that I've discovered that my SnagIt license is also valid on my Mac, I'm trying to do more writing there. It's also a good way to see how the other 10% of our users work, live, and breathe in SQL Developer.
Installing
We don't have a download installation package. You just download the file from OTN, and extract it. You'll want to extract it in your Applications space in Finder. Or just copy and paste the contents over…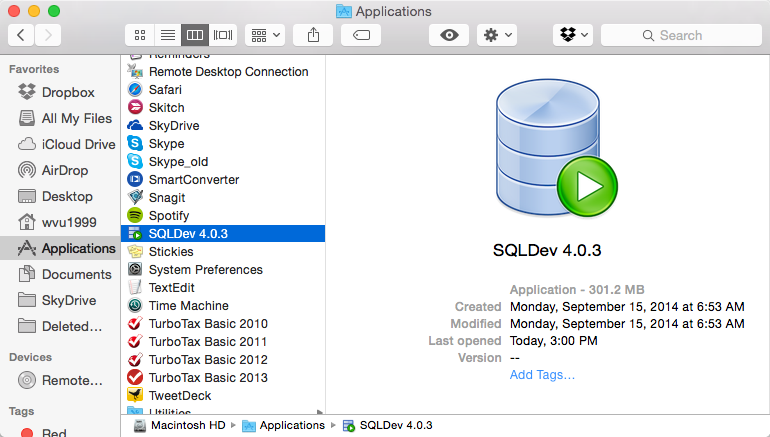 Once you've done this, it should be ready to go. If it doesn't work, there's probably a Java problem. You'll need to make sure you have java…
If you want to follow the official directions, these should help. Just try to get the latest JDK, 7 or 8. We'll officially support Java 8 in the next release of SQL Developer but it's OK to run now (note that I'm using version 4.0.3!)
If you need to mess with any of the JVM settings or even specify WHICH Java to use, you'll need to go into your $HOME directory.
Make It Pretty
I'm using the OS X Look and Feel – see yesterday's post for details.
I've enabled font anti-aliasing – folks with Retina displays pay attention here. Apparently this can help with 'blurry' text.
I've downloaded the Droid fonts, free with Apache dist license 🙂 I didn't know how to install fonts on a Mac until I read this great tutorial.
A Mac Quirk?
I like to drag and drop multiple things from the tree to an editor or a diagram.
I've noticed to get multi-select drag and drop to work with my Magic Mouse touchpad, I have to end the shift+select and drag from that end-point immediately and then drop where I want it – all while holding the SHIFT key…if I let go of the 'mouse' and then try to drag, I get back into a single selection again.
Anyways, this is probably me not reading the Mac docs or doing the right Google search, but just in case it helps you 🙂