Can SQL Developer help me finish my SQL or code?
Probably.
Here's a quick showing of what it's capable of.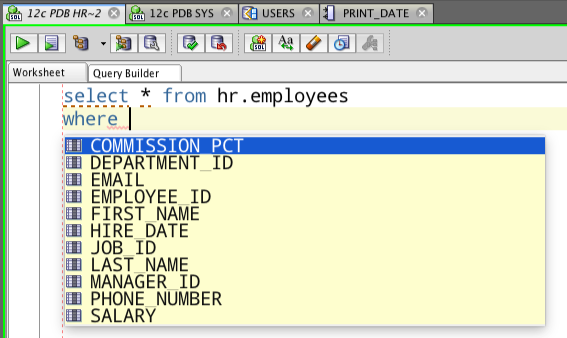 Note: we enhanced this feature to be a lot more user friendly, so make sure you upgrade to the latest offering and you can do stuff like this. 
Need more help on the syntax? Click on the keyword in the last two examples, and you'll be taken to Oracle DOCS syntax pages for that command.
Update: I Found One More!
Not working?
A few things to remember:
mind the preferences – delay timers, automatic off, limiting the help based on # of hits
if the insight query takes too long, the help won't get printed
the helper is invoked with ctrl+spacebar (Mac & Windows)
the better grammar you use, the more luck our parser will have in figuring out what you're doing or what you're talking about
Just watch the movie