This question has come up a few times recently. One person asked how to compare 2 SQL statements at Open World. In fact, they claimed if I could show them how to do it, it would make the trip to San Francisco worth every penny. Don't be surprised they left extremely satisfied 🙂
Then just yesterday, someone else asked how to see the differences between their code objects in the database and their file system.
Thankfully it's pretty straightforward for both scenarios and I'll take a second now to demonstrate.
Comparing DB Object to File
Of course it always starts with a click. Find your PL/SQL object in the navigation tree and right click.
Pick your file and, ta-da!
Comparing Two SQL Statements
If you have your SQL statement(s) in a file, then you're good to go.
Load up file 1.
Use the File menu to start the compare.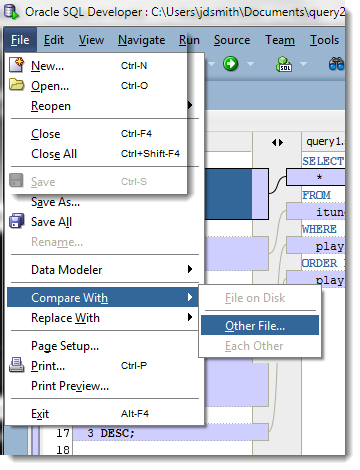 Then voila.
We can do more than just compare the SQL code of course. You know we can also compare Explain Plans and Auto Trace results?