Download SQL Developer Data Modeler 22.2
Too long, didn't release the release notes
Bug fixes. New Java requirements.
Note that the bug fixes listed for SQLcl versions 22.1 and 22.2 will also apply to SQL Developer 22.2 as they share the same script engine.
Java 11 is the new minimum version supported for 22.2. Java 1.8 will no longer work.
You can use Java 17 if you'd like, but the features requiring JavaScript engine or FX won't work.
Later this Summer, we hope to have a Mac distribution that ALSO includes Java, both for x64 and M1 chip architectures – stay tuned Mac users!
Installs and upgrades, unzip and run the EXE
After you've downloaded the ZIP, extract it to a new folder.
I use this naming convention –
c:\sqldev\version
I DO NOT PUT IT IN PROGRAM FILES. That's reserved for Windows installer routines, and if you put SQL Developer there, you'll regret it. So just don't do it.
Once you start the EXE, you'll see a splash screen…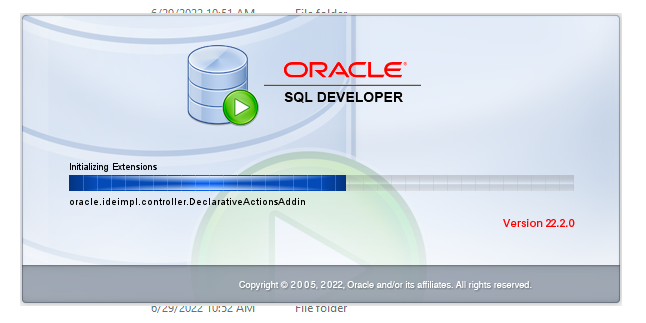 Then we'll ask if you want to import your settings from a previous copy of SQL Developer.
Then it'll finish starting up, and you'll have your connections, preferences, and SQL History.
New features?
No, not really.
Why not?
SQL Developer Web is the future. And we're building out new desktop technologies as well. This JDeveloper / Fusion Control Protocol (FCP) rendition of SQL Developer will continue to get minor updates and bug fixes for the foreseeable future. So don't worry, it's not going away.
But if you want fancy new features like 'Dark Mode,' you'll get it in the new platform we're working on.
We hope to have that ready for a preview at Oracle Cloud World.
If you haven't seen it yet, it's new to you, right?
If I know anything, I know that most folks don't take advantage of 80% of the features of any given software product. Where do you think all these SQLDev blog posts come from?
If you're looking for a quick productivity lifter – try throwing on some folders to organize your connections. You can have nested folders, too! This feature is also available in the DBA panel.
Give me more tips!
Ok.