Updated Wednesday, July 6, 2016
Setting up a new install of SQL Developer this morning – exciting stuff as we'll be teasing some v4.1 features at Open World this week – I found myself immediately tweaking the following preferences.
Font – we've talked about this a few times, but I make it bigger to make it easier to see in presentation mode
I also change the font itself, Dialog is horrible
Open Object on Single Click – Disable
Grid in checker board or Zebra pattern
NLS DATE Format
Connection Tree Object Type Filtering
PL/SQL Syntax Coloring Scheme
SQL History
Explain Plan – Add Notes Field
PL/SQL Compiler – All, Enable
Bonus tip: if you're on Windows, make sure you have MSFT's free ZoomIt program. Makes presentations look 'whiz bang' as you can freeze, zoom, draw, and type in your live product demos.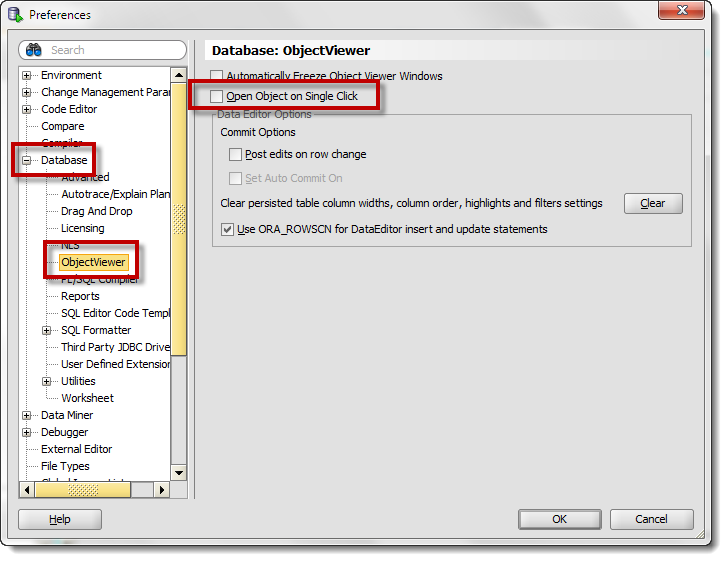 Enable 'Grid in checker board or Zebra pattern.' which gives you query results that look like this –
New Stuff I've Forgotten, and Just Remembered
So as I actually have a physical new computer, my brain was forced to walk this path. For reals. And so I thought I'd update this post to include the extras.
Tree Filters

Notes for Your Execution Plans

If you want to know if adaptive plans are in play for example, turn this field on.
Editor Color Scheme

I'm running a variant of the Twilight scheme.
Bump Up the SQL History

I have mine set to 1500.
PL/SQL Compiler Stuff
If the compiler has ideas for me to make my code better, I want to know about it. This will enable warning messages when you compile your PL/SQL code.
Preferences > Database > PL/SQL Compiler
Find the top item, 'All.' Set to 'ENABLE.'
Then when you compile your code, you'll see stuff like this.