14 July 2021 Update
As of today, you simply need to download and install version 21.2 of SQL Developer. We've properly signed and registered the app with Apple.
If you're stuck (for reasons) with an older version of SQL Developer, read on. But seriously, just upgrade.
If you have version 20.4.1 or older…
I've already talked about managing versions of Java and the JDK on Macs in this post.
In this post I want to talk about this ugly warning: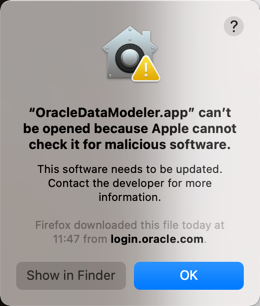 'Oracle … can't be opened because Apple cannot check it for malicious software.'
You don't really need to wait for an update from us, you can tell your Mac it's OK to run right now! Read on, and you'll be going in a minute or 3.
By the way, we have notarized the SQL Developer and SQL Developer Data Modeler apps for OS X. However, we ship 3rd party JARs, and those ALSO have to be notarized, else Big Sur gets cranky and you'll see this message.
Anyways, after clicking 'Ok' – go to your System Preferences and navigate over the Security screen.
You'll see that OS X has recognized it denied you access to an app that YOU installed.
If you don't see this, it's probably because you haven't clicked 'Ok' to the first warning dialog yet.
Once you've done this, you're going to be a bit closer.
Try to open the app again, and you'll now see this –
You'll only have to do this nonsense once. And hopefully we can get those 3rd party library/jars signed later this year so it's easier on everyone involved.
If you're not seeing SQLDev show up even after all of this, go look at this article again and make sure your Java is sorted.
And hopefully now you're here – ready to rock'n'roll again.
Speaking of Java, we're talking about distributing the oracle JDK home WITH the app for OS X, just like we do for Windows. If you think that's a good idea, feel free to leave a comment below.
And finally, these instructions are also spelled out in the OS X support pages here.