Updated February 2021: I've updated this post to reflect the newest edition of this VirtualBox Appliance.
If you're looking for an already configured Oracle Database 19c environment with a database already setup and all the software you need to learn database programming, design, and administration concepts, then look no further!
No need to create anything, just download, import, and run a fully functional Oracle Database, complete with sample data and hands on labs.
This Stuff is all FREE
The virtualization software is VirtualBox – that's free. And it runs on any OS, including Windows, Macs, and *NIX. You'll need to go download and install VirtualBox first. An aside, if you already have VMWare's VM Player, that should also work, but that's between you and VMWare.
Are you ready to get started? Awesome. Then start up VirtualBox. You'll get the Oracle VM VirtualBox Manager on your screen, and then you'll want to IMPORT an appliance.
The virtual machine has already been created, you just need to 'suck it into' VirtualBox via the Import feature.
Point to the .OVA file you've just downloaded –
Next you'll be prompted to approve of the VM settings. There are two that I want you to take a look at before just saying 'Yes' to everything:
The image requires at least 1 GB of RAM to run. Remember, we're running Oracle Database 19c, on a Linux image, plus you'll be running a browser, and probably SQL Developer, or the Modeler, or APEX, or all of those. If you have it, bump the memory up to 4GB.
Also, the OS 'disks' are by default going to be sitting on your C: drive. Make sure that drive is 'fast', has contiguous blocks available (defrag first if necessary), and enough space. I've switched mine over to my D: partition.
Then click 'Ok.'
Say 'Yes' to the License Agreement.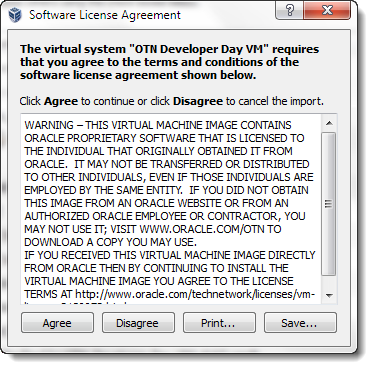 This will take a few minutes – or however fast you can write out those 2 huge files, ~= 12GB.
Start the VM!
Select the vm in the manager and hit the 'Start' button. You'll know you're good if you see this screen.
If you see this error…
"This kernel requires an x86-64 CPU, but only detected an i686 CPU."
Your BIOS is going to need to be updated. You'll want to enable the virtualization technology. There's a good tutorial on how to do that here.
Now, back to the image…
Logon as oracle/oracle – this is the user that owns the install, the labs, and software.
Your desktop should come up, and will look a little something like this – without the annoying arrows and blocky words I added 🙂
Where to get started?
Well, you could click on the big Start button (yes, that is a picture/button/icon) and launch the Hands-on Labs, pick one and follow the instructions. Or, you could fire up SQL Developer and start mucking around.
In either case, you MIGHT want to create a snapshot for the VM first – this will give you a backup of your image you can go back to in case you ever screw it up beyond repair. This would be faster probably than re-downloading the OVA file, importing it, etc.
For SQL Developer, you can create a connection to the CDB or the PDB. Yes, this is a Multitenant installation.
The CDB instance is 'orclcdb' and the PDB instance is 'orcl'. To connect to the database with all the sample data, you'll want to go in as HR or SYS to the orcl 'service.' PDBs are accessible via the service, not the SID.
If you want to clone a PDB, then you'll need to create a SYS-level connection to the CDB and access the DBA – Container Database node.
Connecting to the database from SQL Developer/SQLcl on your host machine
We've made it extremely easy. Unless you already have Oracle Database installed and listening to port 1521 on your computer, all of your database connections can simply talk to 127.0.0.1:1521 or localhost:1521. 
That's because on the VirtualBox Linux appliance, we've setup a local port forwarding rule – anything you say to port 1521 on YOUR machine, will go to port 1521 on the Linux VM. And port 1521 is where the database is 'listening' for database connections. 
You can see these in your VBox appliance network settings –
Example: Connecting with SQLcl to the PDB from my Mac
I know all the passwords are 'oracle,' and I know there are 3 accounts I can play with:
SYS – runs with scissors
SYSTEM – plays with knives
HR – still learning to walk
HR is pretty safe, so let's have a go with that.
The magic connect string is using what we call the 'EZConnect' syntax. So
user/password@network_name_or_ip:port/service
hr/oracle@localhost:1521/orcl
If you leave out the @password bit, you'll be prompted for the password. If you scroll back up and look at the connection properties in SQL Developer I've show, they're almost exactly the same.
If you don't have SQL Developer or SQLcl or any other Oracle tools installed on your machine, you can start using them in the Linux VM directly. You'll just need to be more familiar with Linux.
I suggest also the following:
start learning Linux/using the command line
give your VBox image as much memory as you can spare
restart the appliance before you really start using it – it may run dog slow the first time you bring it up
Updates?
As new versions of the database are released, we'll update this image. The next update will be 21c, as soon as a Linux distribution is available on Oracle.com.
I almost forgot about the Labs!
Remember how I said you could click on that Red start button? Do that, and you'll open a browser with an index of all the topics you can learn about by running through some examples.
If you can read, click, copy, and paste – you can follow along with these labs.
Again the more comfortable you are with Linux, the better.
Looking for more labs, without downloading anything? Then check out our online Workshops!