This feature is going to be hard to cover in a single post, but I'm going to try anyway. The Reports interface received performance improvements, a few tweaks to make them easier to build, a slew of new charting options, and more visual control to tweak. Oh, it's also available via the command-line interface.
Let's cover the performance bit first.
The first time I try to open a report in 'Edit' mode in earlier versions, it can take almost 15 seconds for the thing to load. Ouch. Even though it's faster on subsequent loads, that really isn't acceptable. In version 4.0, the report editor should load in a second or two consistently.
Let's Talk About Charts
In version 4.0, you don't need to query a duplicate column just to get the chart to work anymore.
What do I mean? I mean to get a simple bar chart, I don't need this anymore:
SELECT

 country

,

country

,

 

COUNT

(

*

)

 

FROM

 beer


GROUP

 

BY

 country

,

 country


HAVING

 

COUNT

(

*

)

 > 

100




ORDER

 

BY

 

3

 

DESC
Instead, I can JUST use this:
SELECT

 country

,

 

COUNT

(

*

)

 

FROM

 beer


GROUP

 

BY

 country


HAVING

 

COUNT

(

*

)

 > 

100




ORDER

 

BY

 

2

 

DESC
You see, we need to know what to use the for the group, series, and value fields for charts. In version 4, we can assign the values from the available query columns manually. Less data to query, less I/O, and no need for you to think with your 'SQL Developer Reports' Hat on anymore – just concentrate on getting the data right.
Oh, and don't worry about this 'breaking' your old reports – they'll still work in version 4.
Ok, now that I have the 'pretty picture' to reference, let's talk about the ability to preview the charts.
Live Preview Your Chart
Let's assign a connection for our report while we're in design mode. This only makes it easier to test your report, it doesn't physically tie the report for a particular database going forward.
So in the upper right hand corner of the report editor, toggle that on and select your connection.
Then, look back over to the far left.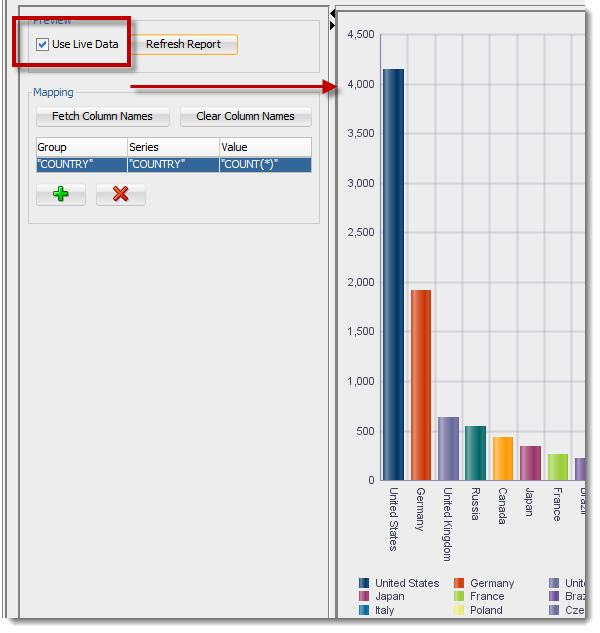 This ability to see what the chart will look like at run-time is reason enough to upgrade to SQL Developer version 4.0 all by itself – assuming you use our reports of course. No more setting it up, saving, closing, and running the report to see what will happen. Now you can leave your report design feeling pretty confident how it's going to look when you run it.
This will also make it MUCH easier for you to experiment with our new types of charts.
There's a LOT of new charts in version 4.
Like, more than 50. I can't talk about all of them. But what I CAN do is show them all to you. Kinda. Check it out:
One last thing on the new charts – we'll have some additional documentation for each chart type soon.
There's quite a bit more you can do visually in the chart design. I can add titles, control the font, coloring, etc of that and the labels, etc. It's pretty straightforward to start using, so I'll end here and let you ask me the stuff you CAN'T figure out.